. beltline in the news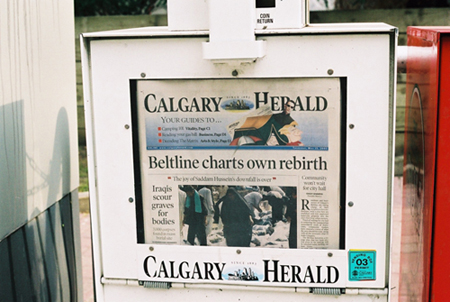 Letters for Friday, June 5
...leaves Calgary man in serious condition | Globalnews.ca | Calgary news
Protestors gather in the Beltline to boycott Tim Horton's
Watson says NEB has the financial resources to fulfill its mandate
Ewart: Watson doesn't quibble with climate debate, just the NEB's role...
Letters for Thursday, June 4
Accused in deadly Beltline crash awaits bail decision
University of Ottawa relaunches men's hockey program in wake of sex assault...
Man charged in downtown shooting death ordered to stand trial
Lawyer arrested for breaking into the apartment she was evicted from claims...
Son found guilty of mother's murder
No bail for Canadian teen charged in Miami murder case
Calgary councillor Sean Chu wants a gay pride crosswalk...
How to avoid being attacked by a Canada goose
'I loved it,' says cyclist on new 12th Avenue track
...project in downtown Calgary gears up [Photos]
Bike to School Day and the new cycle tracks are making cycling normal...
12th Avenue cycle track's early opening thrills cyclists
Rainbow crosswalk proposed by Coun. Sean Chu would be Calgary's first
People and geese in the city: a sometimes uneasy coexistence
First phase of centre city cycle track cleared to open Tuesday
City opens Beltline cycle lane Tuesday, before June 21 network launch
Through Rose-Coloured Oculus Rift glasses
...Things to know about Calgary's Cycle Track Network before it starts to...
Pioneer Calgary Police Service sketch artist puts a face to...