Background of Barb Scott Park
A third of a block in Beltline's Connaught Centre neighbourhood is slated to become a full featured public park.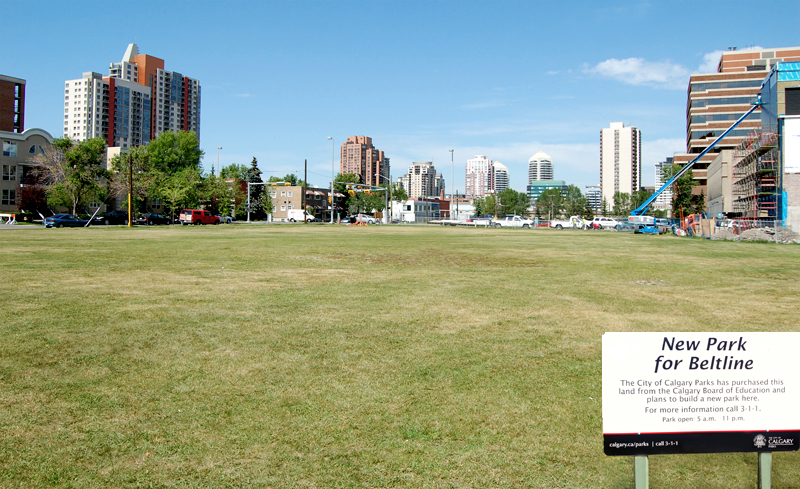 Keeping the green space west of the former Carl Safran Centre has been a long standing community goal. With persistent effort and the help of then Alderman Madeleine King, the city bought the land along 9 street between 12 and 13 avenues when Calgary Board of Education's new trustee headquarters, administration building and conference centre were approved.

The fence around the former school athletic field has come down and a sign declaring "new park for Beltline" has gone up. Some two million dollars has been allocated to finish the park, and the city parks department has assigned a project manager to obtain a detailed design and execute the job.

Beltline Communities extended its "Safran" greenspace initiative early by holding a community park charrette in summer 2007.

The charette was an exercise for community residents to envision what the new Beltline park should look like.

Beltline's Parks & Public Places involved eighteen Beltline residents including two landscape architects in the charette. Lead by Beltline parks planner Jennifer Maximattis, the participants assessed community needs and preferences for the park. They also developed an initial concept plan for the then recently acquired land.

"What we heard most loudly is that it shouldn't just remain an athletic field for pick-up soccer games. Only a small proportion of people would use it for this purpose," says Maximattis.

Even though no one wanted the entire area to remain an open field, some still desired an area to throw a frisbee or kick a ball. The area along 13 avenue was envisioned for more active recreation or exercise.

Other ideas stemming from the exercise include pathways along 'desire lines' and a clear preference for emphasizing beauty and 'passive uses' while including 'active' opportunities. A double row of trees along the 9 street side of the park and preservation of sightlines to the historic Calgary Collegiate Institute building were identified as important considerations.

On the west side of the park, participants envisioned an area with slight undulations in the topography, and denser planting of a variety of vegetation. This would be the most passive part of the park; a place for quiet contemplation, and enjoyment of the various plants. It would be separated from 9 street by lining the sidewalk with a double row of trees.

A broader group of Beltline residents saw the charette's concept drawings at an open house in October of 2007. Suggestions and feedback were obtained from all interested.

Community developed park concept

After reviewing the feedback, Maximattis concluded that, "the community's told us that they like the charette's ideas and that Beltline Communities should pursue them further with the City."

Over 70% of open house participants had positive impressions of the community-developed park design.

"There was strong support in the open house for introducing different features of a mixed-use park that people of all ages can enjoy year round," stated Maximattis.

The idea of a garden and passive uses in the park was hugely popular with open house participants. Almost 80% favoured this use.

Many emphasized that an informal garden would be preferable so as not to mimic the more formal gardens at Central Memorial Park and Lougheed House. Community residents envisioned a relaxing, comfortable place they could sit and read a book, people watch, or just simply enjoy their surroundings.

Pathways were also a key feature that a majority of open house attendees agreed on. "People wanted paths that led somewhat directly across the park," Maximattis said. "However, they also wanted plants and flowers along the paths to create a more enjoyable experience."

Most open house attendees supported open space and the play zone. Many noted that these uses would be beneficial to families in the area.

There was also strong support for public art, though nothing so large as to overwhelm the park.

Beltline residents did express some concerns in the open house.

Most wanted to maintain sightlines so that people feel safe using the park at all hours of the day.

Community members also wanted to ensure that the new park doesn't copy existing ones. "There are so few parks in the Beltline," said Maximattis. "The community wants a park that is unique for the area."

Charette participants gathered to discuss the ideas of various breakout groups.
Charette participants saw an 'X' pattern with paths following desire lines intersecting near the middle of the park.

Where the two paths meet, the charette participants saw an opportunity for a gathering place.

Closer to the CBE's buildings, a children's play area was suggested or an outdoor patio for community residents and local employees to enjoy a warm weather lunch.

Featuring a substantial public art piece was agreed.

"A significantly large public art piece at this location would create a strong landmark for people walking or driving down 12 avenue," Maximattis added.

"Some participants expressed a desire to bring the well known Family of Man sculpture from the existing CBE Centre to this location," said Maximattis.

City council has since decided to keep the sculpture on its present site for the time being.The charette also called for a small landscaped transit plaza on 12 avenue. Integrating the bus stop on 12 avenue into an interesting and enjoyable waiting area was a strongly favoured idea.

Commenting on the planning process for the park, Beltline Communities president Rob Taylor said, "If a new urban park is to truly succeed, Beltline residents should lead the way."

"Calgary's parks department is responsive. They work well with Beltline to overcome challenges and respond to the community's aspiration to build great urban parks in the Beltline."

"Beltline Communities will continue to inform and engage Beltline residents about the park as the process develops," Taylor promised.

Read here to read more about our open house.

See the preliminary concept design here.

If you would like to become more involved with parks in our community please email parks@beltline.ca or call 403-670-5499 ext. 4.
Groups: