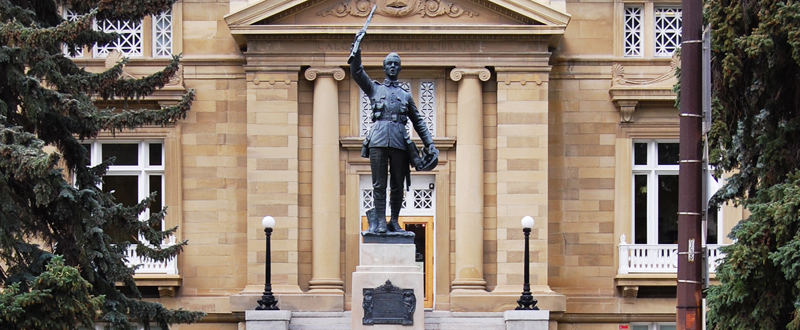 1924

WWI memorial

artist: Couer de Lion McCarthy

Before the entrance to the Central Library stands the Memorial Statue to the Soldiers who fought and died in World War I.

sponsored by: Colonel Macleod Chapter, the Imperial Daughters of the Empire

Couer de lion MacCarthy

born:1881 London, England

died:1979 Montreal, Quebec

Born in London in 1881, Couer de lion MacCarthy was the son of an artist with an equally splendid name, Hamilton Plantagenet MacCarthy. Couer de lion was trained in his father's London studio, and later moved to Montreal in 1918 to establish his own. MacCarthy created numerous war memorials including: Trois Rivieres and Knowlton, as well as the Verdun War Memorial. Couer de lion MacCarthy enjoyed a prolific career with examples of his work across Canada. While his best known work may be the lions guarding the entrance to the Canadian Parlaiment buildings in Ottawa. His most impressive work may be the "Winged Victory", which is a WWI memorial in Vancouver. Other works of his include: busts of Sir Wilfred Laurier and Sir John A. MacDonald, as well as a bust of Queen Victoria for the alcove above the speakers chair in the Senate Chamber.
Groups: