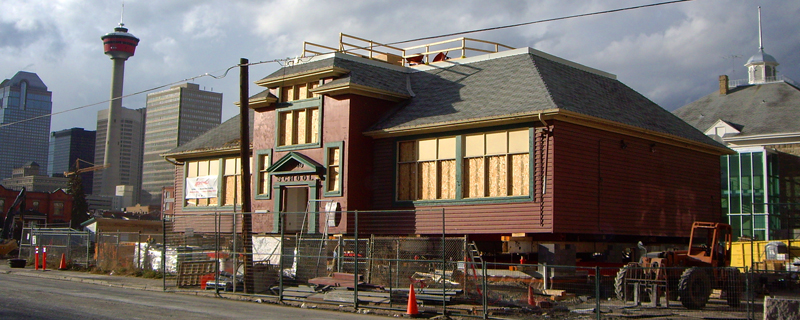 1919

411 11 Avenue SE

Victoria Bungalow School was constructed in 1919 to expand upon the existing school site facilities. Representing a movement towards reduced expenditure on school buildings, it is an important city and community landmark.

In the prosperous and expansive years of 1905-1914, Calgary evolved modern and imposing school structures, such as the first Victoria School constructed in 1904, and its large 1912 addition. This pattern of school building was reversed after 1914, due to post-war economic decline. Although school enrollments increased, the Calgary School Board was forced to erect more modest buildings to house overflows. This, combined with a more regulatory role by the Alberta Department of Education with respect to building practices, lead to the formula development of frame and brick, vernacular, bungalow schools.

One of six bungalow schools erected in 1919 and 1920, Victoria Bungalow School initially housed four classrooms. Although bungalow schools were built prior to the War, the intent of the Post-War bungalows became markedly different. Designed to be more permanent than the earlier cottage schools, the buildings of this period lost their residential appearance. Facade materials (bevelled wood siding) and classical detailing contributed to a more institutional massing. Victoria Bungalow School is formalized by its two-storey front entrance and imposing roof line, with extended eaves.

A strong community reference point, Victoria Bungalow School contributes to a distinctive grouping of school buildings. The Victoria School Site is significant as it represents several phases in the evolutionary development of Calgary's public school system.

The Victoria Bungalow School is recognized as a Category A building on the City of Calgary's Inventory of Potential Heritage Sites. This category includes sites or buildings that have achieved an overall score between 75 and 100 points according to the Heritage Evaluation Scoring System. "Category A" sites or buildings are notable, unique, or rare.

The Bungalow School is also being retained within the Arriva Condominium development project, but will be move to the south-central portion of the site.

Victoria Bungalow School was built as a more economical alternative to the more expensive sandstone schools built before the First World War.
Groups: