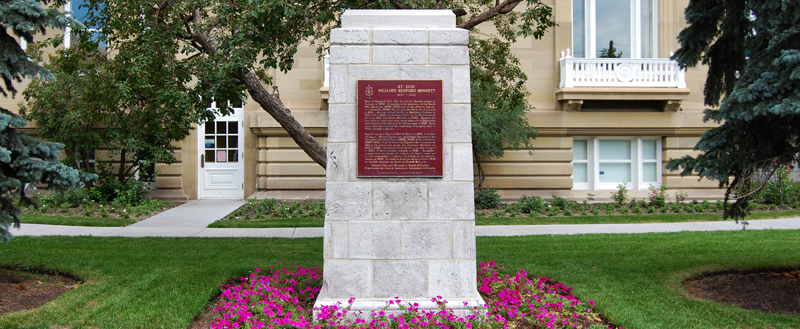 1953

R.B. Bennet Memorial

Richard Bedford Bennett (1870-1947), was the 11th Prime Minister of Canada. And although he grew up in Hopewell Cape, New Brunswick, many of his key professional years were spent in Calgary.

Bennett's ancestors had (for many generations) run a successful shipyard on the coast. By the time he was born though, the company had fallen on hard times, and he grew up quite poor in a hard working family. Always a good student, he was asked to work at the law firm of New Brunswick Premier Lemuel Tweedie. Even before he was accpted to the University of Dalhousie, where he would get a degree in law. After finishing school, Bennett moved west to Calgary. Here he became partner in Senator James Lougheed's office, and managed the accounts for the CPR.

Once he became established in Calgary, he turned his efforts to politics. First, serving as MLA for the North West Territories, then the Alberta legislatures. At the age of 60 Richard Bedford Bennett was elected leader of the Conservative Party and became Prime Minister of Canada.

Richard Bedford Bennett spent one term as Prime Minister before being defeated in the 1935 election to MacKenzie King's Liberals. Bennett wasn't very charismatic, and was not immediately popular with the people. This was compounded with the Great depression starting in 1929 (he was elected in 1930). During his short time in office Bennett implemented many systems that shaped Canada into the country it is today.

-1932 - Statute of Westminster, proposed by Bennett - recognized Canada as a soverign nation.

-1932- Refief Act - forerunner to the welfare system

-1932 - Canadian Wheat Board - to regulate the price of wheat and allow Canadian farmers to compete woldwide

-1932 - Canadian Radio Broadcast Act - CBC forerunner combined with three Canadian National Railway Stations (Moncton, Montreal, Vancouver) into a Crown Commision

-1935 - Parliament established the Bank of Canada - which Bennett regarded as one of his greatest achievements. As a result, Canada, unlike other Nations, did not witness commercial bank failures during the depression. For Bennett " A Central Bank to regulate credit and currency is in the best interest in the economic life of a Nation. ". To this day we are still seeing the economic stability brought on by this system, as through the last economic crisis, the Canadian banking system did not see the widespread failures seen in the United States, and some of the older European Nations.

After Bennett was defeated in government, he moved to Britain. There, he recieved the title of Viscount and was appointed to the House of Lords. Richard Bedford Bennett died in 1947 in England.
Groups: