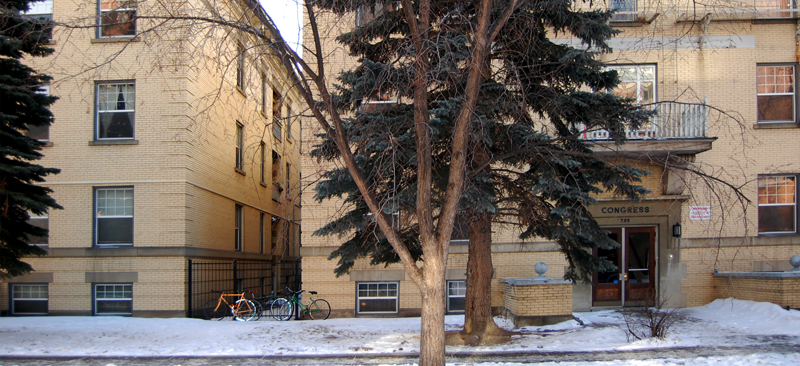 1911

725 13 Avenue SW

The Congress Apartments is one of two identical apartment buildings erected in 1911-12 by John A. Moxam, a prominent developer from Winnipeg who bought the land from Senator James Lougheed. Moxam built the apartment for Sydney Houlton, a local real estate agent, and the apartments were originally called

Houlton House. They were renamed Congress Apartments after 1938, when they were subdivided and much of the original interior lost. The building is three storeys high with a full basement, and presents a flat front to the street, capped by a deep pressed metal cornice. The facade is finished in yellow brick, with simulated quoins at the corners. A wrought iron balcony has been added at the upper floor, and the central balcony door reduced to a smaller window. The building has a very good and dignified design and composition. It is in very good condition, and forms part of a very good streetscape. (1982)

(Calgary Heritage Authority, Building Summary 05-104)

Immediately west of the Lougheed mansion stand the Moxam and Congress apartments, two apartment blocks built from an identical design. Built at the height of Calgary's pre-World War I boom, the buildings helped transform 13th Avenue from a street dominated by mansions of the wealthy to a built-up urban area. But Senator Loughheed was behind it himself: he sold five lots to Winnipeg developer John Moxam (1882-1941), who had recently moved to Calgary, and helped finance the construction project. Each building had fourteen spacious apartments intended for well-to-do tenants. Moxam sold the eponymous eastern block to an English investor but briefly lived in it himself before moving to Victoria. Another noted tenant was Charles Comba, general foreman of Calgary's street railway system.

Moxam built the western block, originally named Houlton House, for real estate agent Sydney Houlton. The suites in Houlton House were subdivided in 1938 and the building was renamed Congress Apartments.

(Historic Walks of Calgary, Harry Sanders, 2005, Red Deer: Red Deer Press, pp.251-253)

A view between the Congress and Moxam buildings looking towards downtown.
Groups: